Who are we?
As a member of the Federation of the International Automobile FIA, Alliance of International Tourism AIT, Arab Road Safety Organization ARSO, and International Road Transport Union IRU, the Yemen Club for Touring and Automobile YCTA is unique in providing multiple services:
International Driving Permit IDP approved for driving vehicles around the world
Carnet Passage En douane CPD/Triptyque which enables its owner to travel by his own vehicle and cross different countries
Representing International Clubs
Insurance documents for vehicles entering Yemen and amending ownership documents
Preparing for motor sports activities and managing related competitions
Services
We provide our services at the highest level
You can drive your own vehicle anywhere in the world
To enter through customs land ports
For vehicles entering through customs land ports
International Partners
Yemen Club for Touring and Automobile is distinguished by being a member of the most important international federations, as it has become representative of all international clubs in Yemen.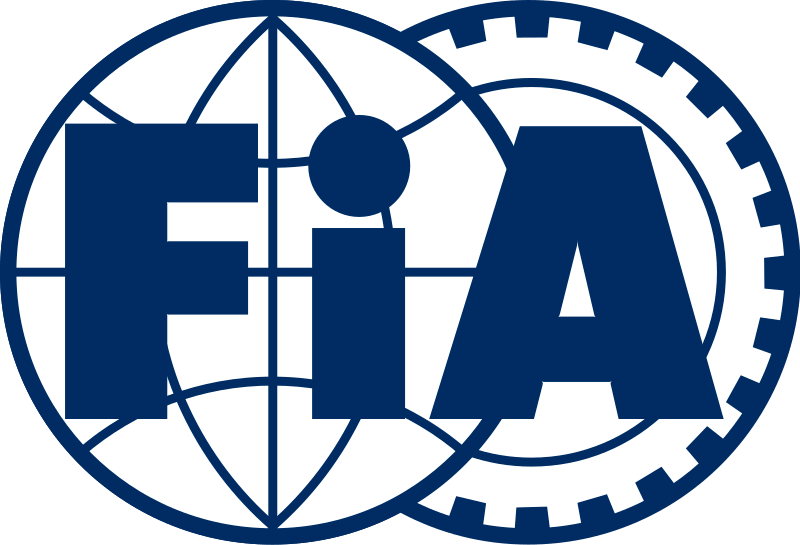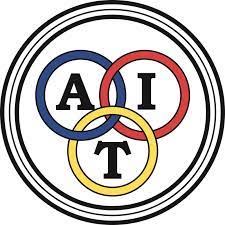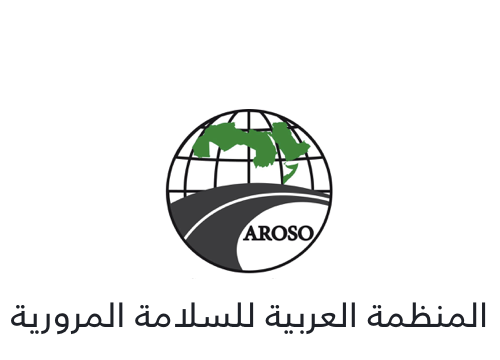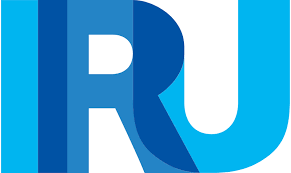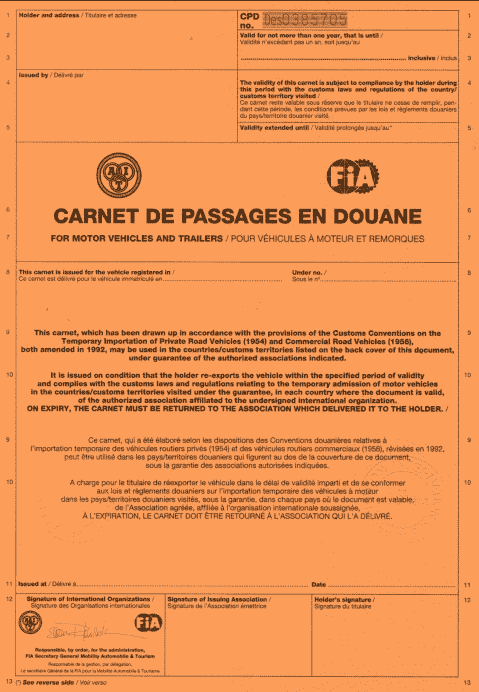 CPD/Triptyque
The Carnet Passage En douane CPD/Triptyque appeared in 1911 and came into use for the first time in 1913 as a document useful in simplifying customs procedures for tourists and travelers using vehicles. Triptyque is used within the customs treaties of the United Nations for the years 1954 and 1956, which include, respectively, the temporary import of private and commercial vehicles. Triptyque is also part of the Istanbul Treaty of 1990, which is monitored by the international customs organizations. Under these international treaties, Triptyque facilitates the process of temporary importation of vehicles by providing a guarantee that any customs duties and import taxes imposed will be paid if the vehicles are not re-exported. The Yemen Club for Touring and Automobile is the only entity in Yemen authorized to issue CPD/Triptyque and International Driving Permits IDPs in the Republic of Yemen, as it is a member of both the Federation of International Automobile (FIA) and the Alliance of International Tourism (AIT).
Requirements for obtaining the CPD/Triptique
Copy of the vehicle ownership
Copy of the customs declaration
Fees (500 $)
A financial guarantee (3,000 $) will be refunded upon departure and return to Yemen
A valid commercial guarantee approved by the Chamber of Commerce and the Commercial Court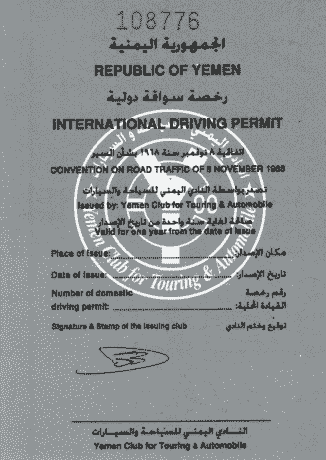 International Driving Permit IDP
According to the Land Transportation Agreement signed by more than 150 countries around the world, on 19 September 1949 and in the year 1968, it is possible to convert local driving permits into International Driving Permits IDPs so that they are valid for use in other countries by translating their contents into several languages using a unified form for IDPs. Therefore, we realize the importance of the IDPs for travelers when they drive vehicles outside their countries, and here comes the role of the Yemen Club for Touring and Automobile, as it has the membership of the Federation of International Automobile FIA, and this is what authorizes it to issue the IDPs for Yemenis and residents who love driving and want to drive their own vehicles, or those who rent vehicles in the countries they visit.
Requirements for obtaining the IDP
Copy of the local driving permit
Copy of the passport
A white official personal photo 4*6
Fees (25 $) for Yemenis and (50 $) for non-Yemenis
Our Branches
We are pleased to serve you in our branches
Contact us
If you have any enquiry or suggestions about any of our services, please contact us at any time
Contact Us
You can contact us by visiting the nearest branch to you or via the following:
Working Hours
Saturday – Wednesday: 08:00am – 08:00pm
Thursday: 08:00am – 02:00pm
Friday: Closed
Address
Sana'a, Beginning of Al-Zubairi St., after Aser Intersection, next to Yemen Mobile